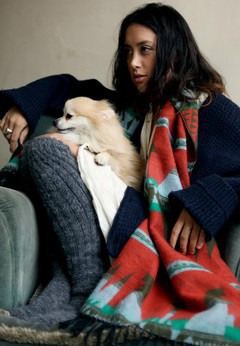 I am a writer with a strong background in fashion and luxury.
After graduating magna cum laude in English and Classics from Wellesley College, I attended Corpus Christi College at Oxford University for an MPhil degree in Greek and Latin Literature.
After leaving the Ivory Tower, I moved to London where an internship at the FT Weekend's fashion desk soon followed. Shortly thereafter, I launched "The Clothes Whisperer" blog, which was to be my full-time livelihood until I moved back to NYC in 2013. Throughout my blogging tenure, I covered all four major international ready to wear fashion weeks for my own site and others, expanded to menswear, collaborated with brands, was represented by
Premier Model Management
in London and
Digital Brand Architects
in New York, lectured and gave workshops around the world, wrote and styled for prestigious titles and generally got up to cool, creative stuff. I published my first book
Alexander McQueen: Genius of a Generation
in 2010 and my second,
Culture to Catwalk
in 2011.
With editorial experience spanning 7 years, multiple platforms, genres and even continents, I am an unique breed of human typewriter with an eye for aesthetics as well as strong marketing and social media sensibilities. Pens in my pencil case include (but are not limited to):
Copy-writing
Editing

Proofreading
Ghostwriting

Branded Content Creation

Brand Consultation
Blogging
Social Media Management
Please feel free to
contact me directly
for inquiries and rates.